Outdoor Pursuits Week at Fair Field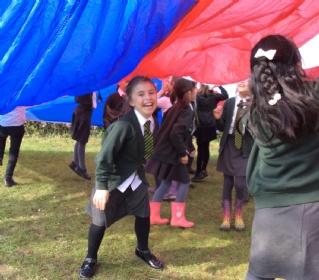 The children at Fair Field were equipped with their Wellington boots for what was a lovely end to the Spring term. Each afternoon this week, the year groups had a different activity outdoors. We were incredibly fortunate to have Chris as volunteer to help put some of it together and we are incredibly grateful. The activities were orienteering, den building, oven making, nature walk, wide games and a cloud study. All tasks required team work, perseverance, a great attitude and enthusiasm; all of which the children showed in abundance.
The aim when orienteering was to navigate between checkpoints or controls marked on a special orienteering map. There was no set route so the skill and fun came from trying to find the best way to go. Mr Flynn did a fabulous job of leading this activity.
The children worked with Chris to create dens. He showed us how to create a knot strong enough to hold wooden stick in place. Once the structure was complete, we were able to use bed sheets to cover the den to create a working shelter. The children also discussed what a good shelter might include.
The oven making was an incredibly wonderful (and delicious) task. We used aluminium foil to cover a card board box both inside and out. We then filled aluminium cans will stones which we put beside hot coal. After, we placed mini pizzas on the cans and shut the cardboard box closed. After 10 minutes, we had baked mouth-watering pizzas.
We are lucky to be surrounded by so much nature here at Fair Field so we used this week as an opportunity to explore ponds and fields nearby. The children were able to have insightful conversations and identify some of the insects they found. Thankfully, none of our children went for a swim.
When we climbed deeper into the topic of clouds, we realised that clouds are more than just white fluffy things in the sky. Some of our children were able to identify different types of clouds by observing their characteristics. The children then drew or painted the clouds they had seen.
What a way to end Spring term.