3 Walliams Win The Termly Reading Trophy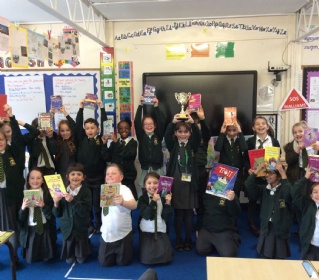 At Fair Field, we are incredibly passionate about reading for pleasure. After reading a book, the children then log in to accelerated reader where they are given a quick quiz which assesses their understanding of the book. They are then awarded points based on how long the book is, how difficult the vocabulary is and how much of it they understood. At the end of the Spring term, we added up all of the points accumulated by each class and 3 Walliams came out on top with a whopping 315.5 points! Many children from that class read an incredible number of books however, Chloe read nearly 500,000 words throughout the term. We are incredibly proud. This meant that 3 Walliams have the reading trophy in their possession for at least the next half term.
Other notable mentions must go to William in Year 3 (100,835 words), Alexander in Year 4 (117,655 words), Oliver in Year 4 (391,246 words), Sunny in Year 5 (724,812 words), Martha in Year 5 (329,726 words), George in Year 6 (73,071 words) and Asher in Year 6 (257,154 words).
Well done you fabulous readers!