Mini Police in Year 5!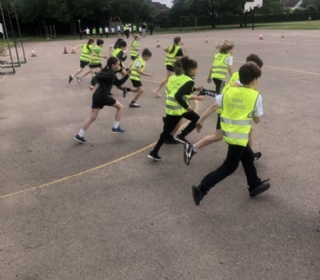 Over the last half term, Year 5 have been taking part in sessions taken by local PCSO officers Milan and Leon and local PC Chris. We found out about the job of the police and what they do each day. The children have learnt about different types of low level crime and how to deal with situations safely. They have also been discussing and thinking about how to stay safe and look after each other when we are out and about.
We also had the chance to take part in some drill training and marching! This was a challenge as it was a hot day but Year 5 demonstrated great perseverance and determination.
One of the most exciting weeks was going outside of school and learning how to use a speed gun to check speed and then ask drivers questions about their speed and being safe.
Year 5 will complete their course soon when they are presented with their certificates and will have the opportunity to share what they have learnt about.
Well done Year 5 – fantastic work!