3 Walliams Win The Reading Trophy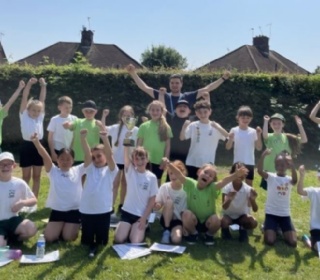 What a year for reading at Fair Field! All the children have read so much, it is almost unbelievable. We were able to award certificates for lots of children over the year for reading over 100,000 words, 500,000 words, 1,000,000 words and even 2,000,000 words! What a phenomenal achievement that is!
At the end of every term, we award our reading trophy to the class that have accumulated the most amount of points on Accelerated Reader. Yesterday was a special day however as we were able to award the trophy to the class that had accumulated the most amount of points throughout the year. In 3rd place we had 6 Rosen, in 2nd place was 6 Blackman and in first place, with a whopping 1,420 points, we had 3 Walliams.
We're incredibly proud of all our children and their efforts with reading.
3 Walliams get to keep the trophy until we find out which class will win it for the autumn term.