Stone Age Day in Year 3!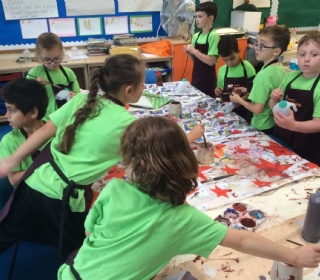 To immerse ourselves into the lives of people who lives during the Stone Age period, Year 3 had a Stone Age day!
The year group were split into 4 groups ready to take part in 4 activities. The children learnt about the animals that roamed the earth all those years ago, especially the megafauna. The children then created woolly mammoths by upcycling plastic milk bottles.
Another activity was viewing a range of cave paintings and then discussing their significance. The children then drew their own based on some typical symbols uncovered in caves.
Another group focussed on the diet of a Stone Age person. We looked at what someone may have eaten and then our focus turned to which part of the animal they would have used. We then created jewellery from (pretend) pieces of bone, shells, teeth and stones.
The last activity that the children were able to take part in was the pottery activity. We looked at some wonderful examples of Stone Age pottery, paying close attention to the lovely designs carved into them. The children were then able to make their own pots with Mrs Hinton.
We had a most fantastic day and learnt so much about the life of somebody who lived during the Stone Age. The children are going to use the new learning to write a diary entry from the viewpoint of somebody from the Stone Age period of time. We can't wait to read their writing!