Remembrance Day - lest we forget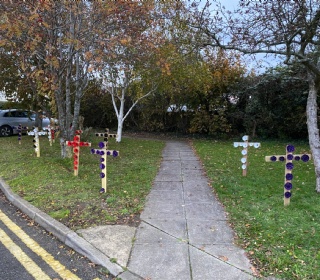 This week, the children at Fair Field have remembered the fallen and those who are still at war.
Each class learnt about the different poppies and what they symbolise:
The red poppy is the most famous symbol used to commemorate those who sacrificed their lives in World War One and the conflicts that followed.
The purple poppy is often worn to remember animals that have been victims of war.
The black poppy is most commonly associated with the commemoration of black, African and Caribbean communities' contribution to the war effort - as servicemen and servicewomen, and as civilians.
Some people feel that the red poppy glorifies war and conflict. Instead they might choose to wear a white poppy for peace.
The children also created different art projects:
Year 3 - Stained-glass poppies
Year 4 - Poppy pinwheels
Year 5 - Felt poppies (which have been displayed in our reception area)
Year 6 - Blackout poetry